The Scotch Whisky Industry Review 2022
The 2022 edition of "The Scotch Whisky Industry Review" has now been released. The Review is published annually and, having started life in 1977, is now in its 45th edition.
It is the single most authoritative source of business information on the Whisky industry – incredibly comprehensive in its coverage and painstaking in the accuracy of its research. The Review contains 280 pages packed with fascinating and useful information and is used as a reference by all the leading players in the Scotch Whisky industry.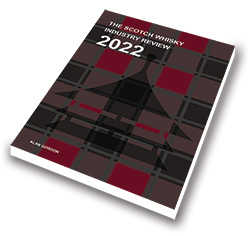 In summary, the "Review" includes detailed information covering the following main areas;
An overview of the industry and estimated consumption growth rates till 2025
Industry Section

Consumption by market, production, stocks, production costs and profit margins

Company Section

Names and addresses, list of distilleries (including details new and projected distilleries), distillery capacity utilisation, and visitor numbers

Case Sales

The most comprehensive Annual Case Sale figures available anywhere by Scotch Whisky type (Blend & Malt). Also 10 year record for all the major brands

List of Bottled brands

List of bottled brands sold in the UK and overseas by company and category - an unrivalled list categorised by standard & deluxe blends and malts. See the brands owned by the different companies at a glance!

Issues and challenges facing the industry
Sponsorships

Information on current sponsorship deals by Scotch Whisky companies

Appendices

Includes detailed figures on Scotch Whisky Broking Prices and Retail prices of Leading Brandsand record of excise duty changes from 1885 onwards.
"No Scotch Whisky industry professional, consultant, supplier, specialist retailer, importer, distributor or Scotch Whisky connoisseur should be without a copy!"
The Scotch Whisky Industry Review 2019 is available to purchase online now at: www.scotchwhiskyindustryreview.com