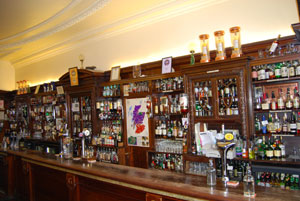 The bar occupies the ground floor of a granite terraced range of the early 1830's in a prominent position on Aberdeen's main thoroughfare. The name has not changed since it became a restaurant in 1870. For over 30 years the premises operated as a "Restaurant & Dining Rooms", complete with a "Billiard Saloon" . Sometime after the turn of the century the premises were converted to a pub and in 1926 the pub was refurbished to its present form under the local architects Jenkins & Marr. They took the opportunity to remodel the pub and include the unusual oxidised-bronze fascia panels and scroll work on the exterior. The interior was panelled in mahogany veneer, with a finely-carved back gantry and clock. It has remained virtually unchanged for over 80 years, making it one of Aberdeen's oldest and most historic bars. The Grill is the only entry from the north of Scotland in CAMRA's list of pub interiors of outstanding historic interest.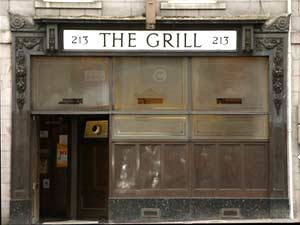 Since 1870, the premises have been in the ownership of only six different families. The Watson family have owned the bar since 1971. The pub remained men-only until the introduction of the Sex Discrimination Act of 1975, despite an invasion by female delegates attending the Scottish Trades Union Congress at the Music Hall in April 1973. The police had to be called to disperse the thirsty ladies.
In addition to a first class range of draught and packaged lagers, cask and keg ales, and the famous Stovies & Oatcakes, The Grill has one of the finest collections of whiskies in Scotland, and Graham and his knowledgeable staff are on hand to guide you to the whisky of your choice. The current selection, including many old and rare single malts and whiskies of the world, numbers well over 500.