The Scotch Whisky Industry Review 2015
The 2015 edition of "The Scotch Whisky Industry Review" has now been released. The Review is published annually and, having started life in 1976, is now in its 38th edition. Every edition of the Review has been compiled by the recognised leading independent industry analyst Alan Gray.
It is the single most authoritative source of business information on the Whisky industry – incredibly comprehensive in its coverage and painstaking in the accuracy of its research. The Review contains 284 pages packed with fascinating and useful information and is used as a reference by all the leading players in the Scotch Whisky industry.
In keeping with its strategy to be the leading online source of Scotch Whisky information, ScotchWhisky.net has partnered with Alan Gray to make the purchase of "The Scotch Whisky Industry Review" readily accessible via the internet to a worldwide audience.
As Alan states "No Scotch Whisky industry professional, supplier, specialist retailer or scotch whisky connoisseur should be without a copy!"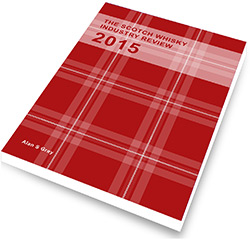 In summary, the "Review" includes detailed information covering the following main areas;
Industry Section

Includes consumption by geographic market, production, stocks, production costs and profit margins

Company Section

Includes individual company information, list of distilleries and ownership, distillery capacity utilisation, new developments and visitor numbers

Case Sales

Includes the most comprehensive Annual case sale estimate available anywhere by Whisky type (blend & malt) and individual Whisky brand. Includes 10 year records (up to 2013) for major brands

List of Bottled brands

Includes list of bottled brands sold in the UK and overseas by company and category - an unrivalled list categorised by standard & deluxe blends and malts. See the brands owned by the different companies at a glance!

Sponsorships

Includes information on current sponsorship deals in the Scotch Whisky industry

Appendices

Includes detailed figures on excise duty and revenue, broking prices, retail prices of leading brands and estimated consumer expenditure
For more information please click here