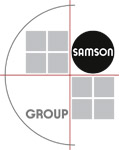 Control Valve Systems
Lower Coilentowie, Perthshire, FK17 8LW, Scotland, UK
Tel: +44 (0)1786 841 228 Fax: +44 (0)1786 841 944
www.control-valve-systems.co.uk Email: c.v.s@virgin.net
Control Valve Systems is a specialist supplier of pneumatic and electronic controllers, control systems, transmitters and signal converters, self-operated regulators for pressure, temperature and flow, pneumatically and electrically operated control valves, positioners, limit switches and solenoid valves.
CVS has over 30 years experience in the specification and supply of SAMSON control valves to most industries throughout Scotland, including the whisky industry.
SAMSON control valves with corresponding pneumatic actuators are suitable for use in safety instrumented systems according to IEC 61508 and IEC 61511, up to SIL 2 (single device) and SIL 3 (redundant configuration). If used in conjunction with Samson's range of ATEX certified 3730 digital positioners the operator has access to extensive diagnostic functions while the process is running. This gives the customer confidence that their plant is utilising the most technologically advanced and reliable valves on the market today.
CVS offers a unique approach to customer service. The sales team will personally deal with any project throughout its entirety, sharing collective experience and knowledge in the field of pressure, flow and temperature control. At every stage your enquiry will be dealt with promptly and professionally. In addition, we offer on- site commissioning services for a variety of control valves.