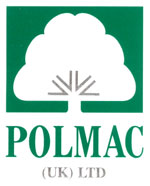 Polmac (UK) Ltd
3 The Briars, High Wycombe, Bucks. HP11 1ED. England
Tel: +44 (0)1494 533857 Fax: +44 (0)1494 533857
www.polmacuk.com E-mail: polmacuk@aol.com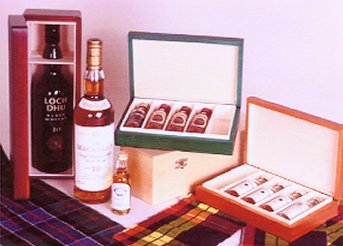 Polmac (UK) Ltd specialise in supplying customised wooden whisky boxes, including miniature whisky boxes and packaging, for single malt and other high quality premium whiskies.
Polmac (UK) Ltd supplies whisky boxes to many successful companies in the Scottish Whisky Industry, including Ben Nevis Distillery Ltd, Burn Stewart Distillers and Isle of Arran Distillers Ltd because:
1/Polmac whisky boxes are beautifully made, versatile and terrific value, which means they help improve sales of whisky!
2/Polmac whisky boxes are supplied in quantities as low as 100, which means a high return, for a low investment!
3/ Polmac (UK) Ltd has a proven track record of providing a fast, reliable and efficient service to all its customers!
Polmac whisky boxes are supplied with a clear, satin lacquer finish, to bring out the natural warmth and beauty of wood, or decorated in a range of stunning, natural wood stains and vibrant colour finishes, for maximum Buyer Appeal!
Our whisky boxes are manufactured in a variety of styles, including rectangular, round and multi-sided boxes (hexagon, octagon etc.), with hinged lids, sliding lids and lift-off lids (wood or perspex), for maximum versatility! They are also supplied with silk or velvet fabric linings, transforming a simple whisky bottle, into a luxurious gift, a special treat or an irresistible presentation pack!
Each whisky box can be over-printed with a company logo, using metallic (foil) blocking, laser etching or screen printing techniques, for a more personalised finish!
Polmac (UK) Ltd provides a free of charge design drawing and a sample of the finished whisky box, for customers approval, prior to manufacture. To ensure the highest possible quality standards, each whisky box is individually inspected before dispatch!