RESCU Solutions / Norbert Dentressangle
5 Coddington Crescent, Eurocentral, Motherwell, ML1 4YF
Tel: +44 (0) 7710 006618 • Fax: +44 (0) 871 5941072
www.rescu-solutions.co.uk/contract_packing E-mail: REllis@rescu-solutions.co.uk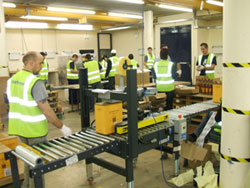 RESCU Solutions bright, clean 12,000 square feet co-packing facility in Motherwell, Scotland provides a full range of dedicated co-packing support services. Based on the RESCU Solutions 340,000 square feet multi-user warehouse site, the Motherwell co-packing facility offers reworking capability, warehousing space and significant flexibility.
The swift response required by co-packing customers means a dedicated team is necessary to ensure that high service standards and complete consistency of output are achieved for every job. At RESCU Solutions Motherwell, the permanent team of staff encompass stock control, production & operations, quality, planning, commercial, purchasing, warehousing and distribution, order processing and customer service. The team of over 70 operatives is flexed to meet the specific requirements of up to 12 reworking lines.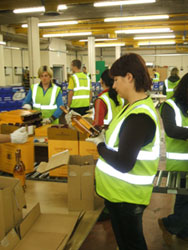 When accuracy and time is of the essence, the need for a clear specification, agreed service and productivity levels and visible costs cannot be underestimated. The RESCU Solutions team operate to tight performance standards and have detailed reporting processes in place to ensure the customer has total visibility and control of its outsourced operations.
Focus on…. the drinks industry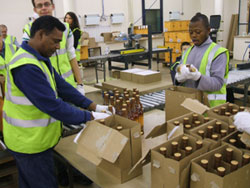 The seasonal nature of the drinks industry, with a peak four months in the lead up to and including Christmas and New Year, means the capacity to process large volumes of product is important. As a bonded warehouse, the Motherwell facility provides regular support to the drinks industry in Scotland. In one week alone, the team can process 250,000 bottles through the copacking cell. And with up to 12 lines available at any one time, the ability to flex capacity up and down works well, especially when high volumes are involved.
RESCU Solutions provides a range of support from Motherwell, including repacking products from large to smaller cases, preparing and packing gift packs or glass sets, adding neck collars, ribbons or seals or inserting promotional leaflets into gift packs. For one high profile client, the RESCU Solutions team even sourced an engraver to add unique numbers to 30 year old bottles of premium quality whisky. Specialist support such as removing labels and re-labeling bottles, preparing tax stamps and export paperwork and quality inspection of bottles, cartons or cases can all be undertaken. With RESCU Solutions's robust processes and systems, product traceability is not an issue either.