Grants (Dufftown) Ltd.
33 Balvenie Street, Dufftown, AB55 4AS, Scotland
Tel: + 44 (0)1340820241 Fax: + 44 (0)1340 820997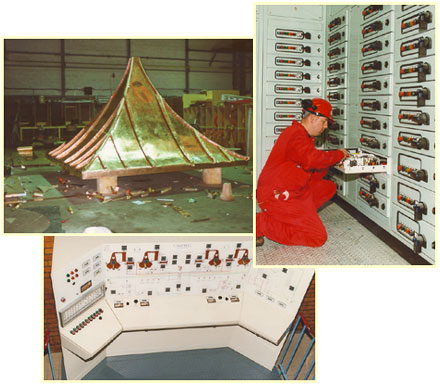 Formed in 1911, Grants (Dufftown) Ltd has a long tradition of meeting the needs of industry, in particular, the Scotch Whisky industry.
Since 1981, we have been part of the Forsyth Group of Companies and continue to diversify into new technologies, on a local, national and international front..
With Grants, "you have the solution" to a full range of disciplines and trades including:
Electrical Contracting and Installations
Instrumentation Pipework
Plumbing and Drainage Contractors
Domestic and Industrial Heating Systems
Gas Installations
Specialist Roofing Contractors
24 Call Out Service
Our high level of expertise is recognised and endorsed by membership of The Electrical Contractors Association of Scotland, CORGI, NICEIC, and SNIPEF.
In line with our key customers progress towards full automation and remote process control Grants have retrained key staff and upgraded our production facilities to offer the following service to industry:
Fire and Security
Motor Control Centres and Boards
PLC's SCADA and HMI
Electrical Installations
Instrumentation and Control
Grants craft the right solution to your control, switchboard, MCCB needs with a range of high performance compatible products, which are modular, scalable to ensure cost effective answers to your requirements even in the most rugged plant environments.
Grants work in partnership with other Forsyth Group members to offer the drinks industry a truly turnkey service from mechanical engineering, computerised drafting through to fabrication, building contracting, process control, surface preparation and coatings and finally the installation of services, power distribution, security systems and even specialist roofing systems.
Contacts:
Mr Stuart Duff - Electrical
Mr Alex Morton - Mechanical Services