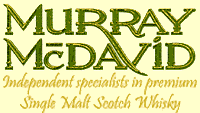 Murray McDavid
56 Walton Street Knightsbridge London SW3 1RB England.
Tel: +44 (0)141 842 3000 Fax: +44 (0)141 842 3001
www.murray-mcdavid.com E-mail: malt@murray-mcdavid.com

Murray McDavid
Named in honour of Harriet Murray and Jock McDavid, Winston Churchill's aide-de-camp in WW1 and who was in the whisky business afterwards. Founded in 1997 by Simon Coughlin, Mark Reynier and Gordon Wright (whose family own Springbank).
Our aim:
To discover and bottle only the best casks possible, at the ideal drinking strength of 46%, without chill-filtration or colouration, to produce whiskies, not merely for collection, but for drinking.
We do not believe in high cask strengths: at 46% only a little water is required to release the flavours and enhance the aromas in your glass, without blowing your brains.
Cask selection is vital: there are very few casks that genuinely merit being bottled on their own, and far too many are, in the mistaken belief that their 'uniqueness' alone is worthy of attention:
The range is deliberately small - less than ten malts - selected only from distilleries that have produced really good spirit - not just famous names. The selection we make (tasted by all of us) is made from casks that exude star quality - the rest we sell off.
Each small batch bottling will contain the number of casks that we identified as having star quality: it may be one, it may be five. Full details about the casks are included on the label, including new, sometimes irreverent, information about the distillery.
Murray McDavid have reclassified the traditionally accepted distillery classification system taking into account the tastes and styles of the spirits produced.
Occasionally a single cask is found that is worthy of this attention, and we bottle it. Since the acquisition of Bruichladdich Distillery in December 2000 - this is the first time an independent bottler has bought a distillery, Jim McEwan has been selecting some extra special casks - watch this space.
To find out more why not visit our website at www.murray-mcdavid.com or email us at malt@murray-mcdavid.com